The PM Forum's members area will be available soon. PM Forum is all set to launch The Skills Development Platform. 
The launch webinar is on 1st November 2023 at noon.
"The varied and insightful content of the programme provides food for thought and ideas for action throughout the year. It's an invaluable network that enables members to tap into collective experiences."
Susanne Pugsley
Head of Programming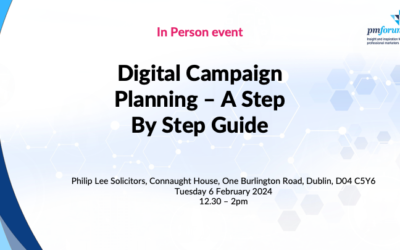 "If you build it, they will come" – not always the case when running a campaign but let's get back to basics and think about what the customer really wants in order to make your campaign a success. In this one-hour session we'll take a step-by-step approach in how to...
Did you miss one of our webinars?
Catch up now or select another video to watch. Take a look at these 3-minute teaser videos before watching the full content.
In this webinar taster of 'Brand, reputation and thought leadership - developing thought leadership for cultural and commercial success' webinar hosted by the North West Committee, we were joined by Rachael Kinsella, Editorial and Content Director at iResearch...
During this webinar, our esteemed speakers equiped marketers with essential knowledge and strategies to thrive in the dynamic digital landscape. They explored crucial aspects such as leveraging better channels, creating captivating digital content, and maximising...
In this webinar taster, we were joined by James O'Connor, Senior Director, Global Commercial Leader, NPSx from Bain & Company, the guardian of the Net Promoter System℠ and Net Promoter Score ℠ (NPS®), a loyalty measure that professional services firms increasingly...
"PM Forum events very much set the bar on what constitutes best practice."
"If you're a senior marketing/
BD professional the PM Forum
conference is the perfect
opportunity to take a step back
and re-prioritise your objectives.
It's challenging and inspiring."
"It was really interesting to learn about data use in different businesses and about senior marketing leadership in professional firm and how this differs."