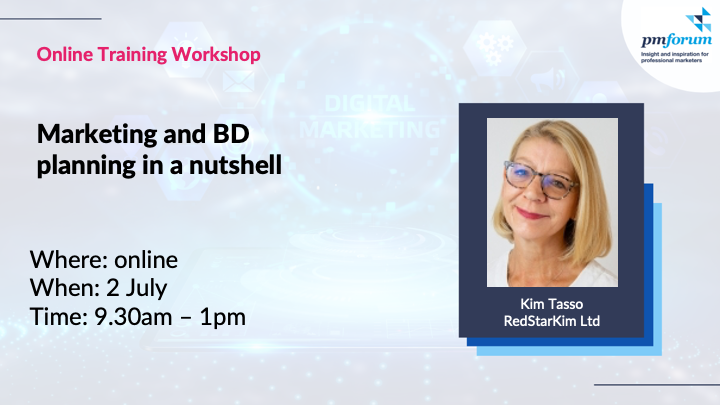 Marketing and BD planning in a nutshell
Planning in the professions is always a challenge. This interactive workshop is designed for both those who are new to marketing and business development planning and for those who studied the subject with the CIM and need to get started in applying that knowledge in a professional partnership. It will also help those with specialist roles such as PR, events and digital marketing understand the broader marketing perspective and appreciate the relevant theory as it is applied to professional services. Through case studies, exercises and discussion with other delegates, the workshop will provide confidence, motivation, insights and practical ideas for those tasked with developing or implementing plans and achieving fee-earner buy-in to their implementation. Leave with a clear idea of how you can start or improve the planning in your firm.
Topics covered
Marketing/BD theory and fundamentals
• Evolution of marketing
• Buying process and pipeline management
• BD – integrating marketing, selling and RM
• Marketing theory (4Ps, segmentation)
• A strategic approach
• Breakout: Do we need marketing/BD plans?
• Marketing planning frameworks
Marketing/BD planning process
• The marketing planning process
• Marketing audit
• Breakout: Analysis and the audit?
• Goal setting
• Strategy selection
– Brand
– New product/service development
– Communications and campaigns
– Thought leadership/Content marketing
• Budgets and ROI
Overcoming planning challenges in professional services
• Breakout: What are the key planning challenges to overcome?
• Why marketing/BD in a PSF is different
• Cultural issues/Buy-in
• Business strategy, plan and finance
• Matrix, sectors and collaboration
• Sales focus: CEM, CRM and KAM
• Marketing/BD team alignment and skills
Pricing
First attendee £270 VAT
Second attendee £260 VAT
All subsequent attendees £250 VAT
Cancellations/Substitutions
Due to the restricted number of places, refundable cancellations are only accepted up to one month prior to the event (a cancellation fee of £25 VAT will be incurred per person). Substitutions can be made at any time. PMI reserves the right to cancel with no liability beyond refund of fees paid.
Eligibility
This training course is open solely to member firms of the PM Forum, a worldwide group of over 3,000 marketers in professional services firms.
Book Now
Speaker
KIM TASSO

RedStarKim Ltd

Kim Tasso has worked within and for over 200 professional partnerships in the legal, accountancy and property sectors for over 20 years and continues to do so as a management consultant.

She also has direct client exposure from working with organisations in the technology, education, creative, media, real estate and not-for-profit sectors.

Unusually, she combines psychology, marketing and business qualifications so is effective as both a professional trainer, facilitator and coach and also as a subject matter expert in a variety of strategy, marketing, selling and relationship management topics.

She is highly rated as a trainer and coach for lawyers, accountants and surveyors and also lectured on Chartered Institute of Marketing (CIM) professional marketing qualifications for Cambridge Marketing College.

She is the author of books on soft skills, growth strategies, business development, media relations and business development and a prolific conference speaker and journalist. She is also a member of the PM Magazine Advisory Board.